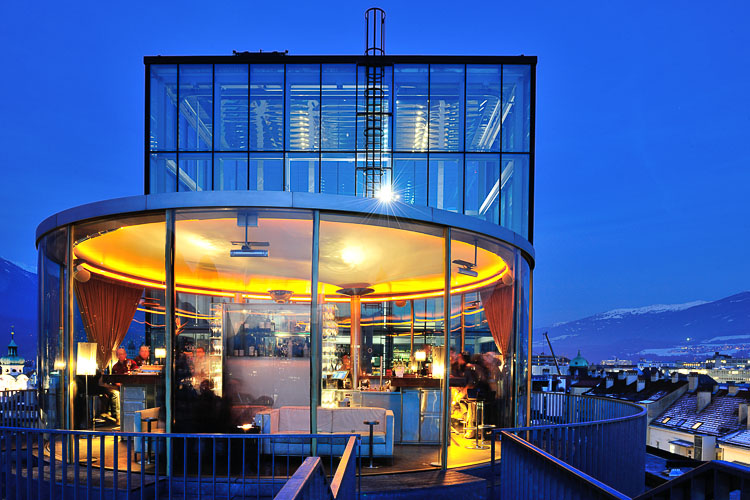 On the skis in the morning, in the afternoon some serious shopping and when evening comes, relaxing with a Spritz or Hugo in a cosmopolitan bar. Why stay in a boring and artificial resort if you can be in Innsbruck, the urban ski mekka of the European Alps? Every visit to Innsbruck really should start (and end) in the 360° bar. Order one of the favourite cocktails of this region, the Italian Venetziano (aka Spritz) made with Aperol and prosecco and enjoy the view over the city surrounded by snowy mountaintops.
The name of the bar says it all: it's a warm glass cocoon on the 7th floor of the Rathaus Galerien, a shopping and office complex in the centre, build by architect Dominique Perrault. From the bar, and the adjacent restaurant, where you can take an inexpensive lunch, you get a grip on the city. The traffic-free Old Town is right at your feet, you get a perfect idea of the mountains surrounding Innsbruck. The old city is a maze of small streets and squares, archways and stately mansions. Innsbruck also has a thing for bling bling. It is not only home to the world famous Swarovski Crystal but the symbol of the city, the Golden Roof, is a Gothic alcove from the 15th century which is completely covered in 3450 gold leaf-covered copper plates.
The old town is as Tyrolean as it can be. Shops selling classic clothing and accessories in green felt, traditional hunter outfits, thick woollen hats with Tyrolean print and of course Café Sacher, where you have to go for a Sacher coffee while being surrounded by regulars who seem to be part of the decor. Near the Old Town is the pedestrian shopping street, the Maria-Theresien-Straße, a string of shops and eateries. Architect David Chipperfield was responsible for the design of the Kaufhaus, a new shopping center which is perfect for on a cold or snowy day when you want to escape the sub-zero temperatures. It's interesting to see how Innsbruck works together with international architects. Take for example the Congress, just outside the historic city.
The famous architect and Pritzker Prize winner Zaha Hadid designed the amorphous lit glass structures of the four ski lift stations of the Nordkettenbahn. This Nordkettenbahn is over 100 years old and connects the city with the Alpine village Hungerberg. With the Nordkettenbahn you zip in twenty minutes to 1900 meters altitude and trade the urban vibe for the absolute silence of the Alps.